Overview:
Bitcoin again above the $ 40,000 mark

Elon Musk comments more positively on Bitcoin again

MicroStrategy Buys More BTC for $ 500 Million

The bull market may not be over after all, and crypto investors can get ready for an exciting summer.

After a sharp sell-off that kept the Bitcoin price below $ 30,000 in the short term, Bitcoin has shot up again.
Currently, the price is back at over $ 40,000 and gives the Bitcoin bulls a lot of hope.
Bitcoin: What's next?
Bitcoin continues to give the bulls hope and was able to fight its way back above the $ 40,000 mark after visiting the $ 30,000 mark. A close above $ 40,200 today would be a very bullish sign for the upcoming price trend.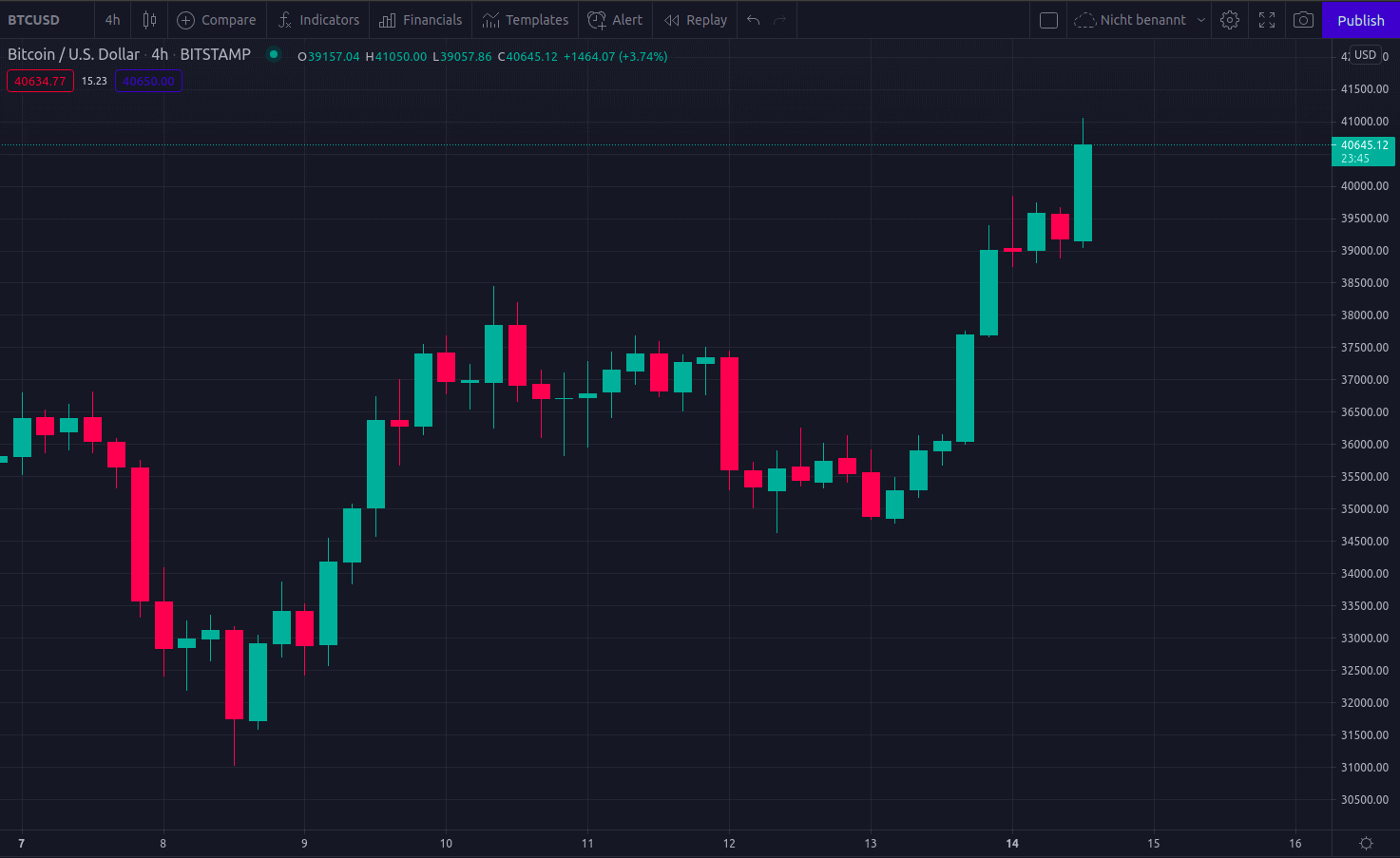 In recent days, various positive news has reached us, starting with the announcement of El Salvador to make Bitcoin an official currency of the country. In addition, President Nayib Bukele is also planning Bitcoin mining with energy extracted from the Salvadoran volcanoes. El Salvador has thus sent a clear signal and it can be assumed that other Central and South American countries will follow suit.
MicroStrategy's message was equally bullish. The US software manufacturer, led by CEO Michael Saylor, once again bought Bitcoin, this time for more than $ 400 million. Bitcoin dominance has seen a strong rebound over the past seven days, rising from a good 41% to 46% now.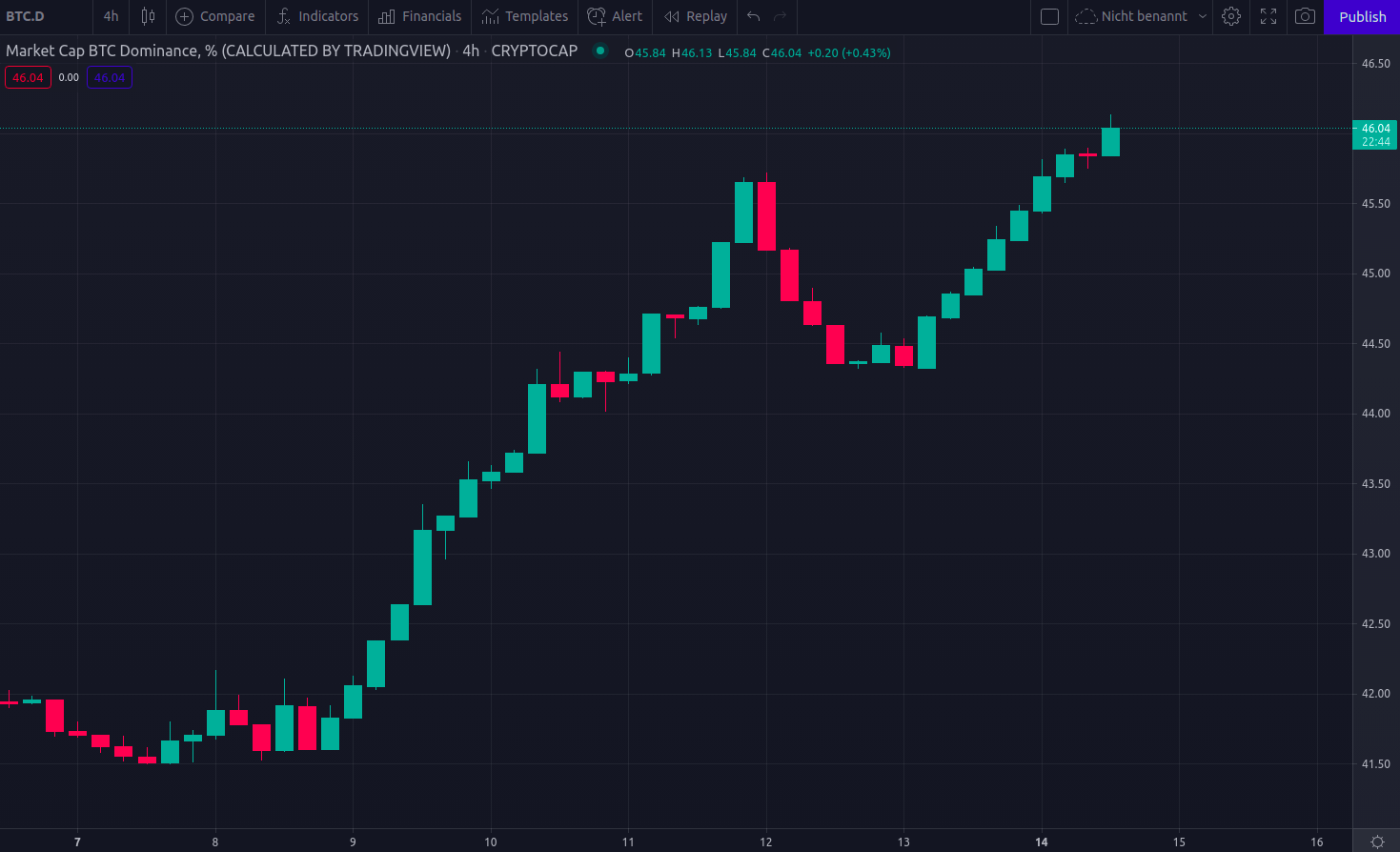 Market capitalization of Bitcoin and altcoins
The market capitalization of all cryptocurrencies was able to hold over $ 1.5 trillion. The downward drift in the graph comes from a bug in the Coinmarketcap platform that provides these numbers. At 1.5 trillion US dollars, the market capitalization is still comparatively low, gold comes to about seven times the market capitalization.

Altcoin's market capitalization has been able to stabilize over the past week and stands at around $ 1 trillion.

The Altcoin Winners of the Week
Quant (QNT)

Quant (QNT) is committed to interoperability between different blockchain systems, enabling the cost-effective transfer of data and assets to other blockchains in a secure environment. Over the past seven days, the internal QNT token has seen more than 35% price growth.
Thore (THR)

Thore is a smaller crypto exchange that has also launched its own coin, THR. Tokens and coins of crypto exchanges have already had a considerable development this year, especially BNB and FTT. But smaller coins like THR are also apparently high in price, last week the price rose by more than 15%.
Leo (LEO)

Another winner from last week is at the same time another crypto exchange token, LEO from Bitfinex. Bitfinex is still one of the more important Bitcoin exchanges, even if they are not very focused on the retail sector these days. The LEO price has increased by more than 13% in the last seven days.
Conclusion: It remains exciting!
It remains exciting when it comes to the question of whether the bull market is over or not. I remain of the view that the top has not yet been reached for this cycle and we will see a new Bitcoin all-time high later this year.