Overview:
Bitcoin price hits a three-month low at around $ 43,000

Blame likely to be Elon Musk's recent comments about Bitcoin energy consumption

In a tweet, the Tesla boss clarified that Tesla has not sold Bitcoin so far
The Bitcoin price falls as low as not for a long time. At around $ 43,000, the popular Ur coin reaches its three-month low. The reason for the recent decline may have been the comments of Tesla CEO Elon Musk on Twitter. With his tweets about the coin's poor energy balance, Musk is causing chaos in the crypto market. According to this, the e-car manufacturer will not accept cryptocurrencies as a means of payment until the mining of the coins can be completely covered by renewable energies.
Tesla & amp; Bitcoin pic.twitter.com/YSswJmVZhP

– Elon Musk (@elonmusk) May 11, 2021
The crypto community reacted angrily to the latest statements, which are likely to have caused the current price slump. Some Twitter users referred to Musk's tweets as"shitchat." Musk, meanwhile, responded to the wave of outrage by announcing that Tesla has not sold any of its Bitcoin and continues to believe in the crypto project. The price has been able to calm down a bit since then, rising by $ 2,000 to $ 45,000.
To clarify speculation, Tesla has not sold any Bitcoin

– Elon Musk (@elonmusk) May 17, 2021
Bitcoin Price Recovers Slightly-Overall Market Battered
As data from CoinMarketCap shows, the Bitcoin price was able to recover somewhat after Musk's clarification. But even without the comments of the Tesla CEO, the price was in a slight correction. However, the speed of the downward movement increased with each tweet.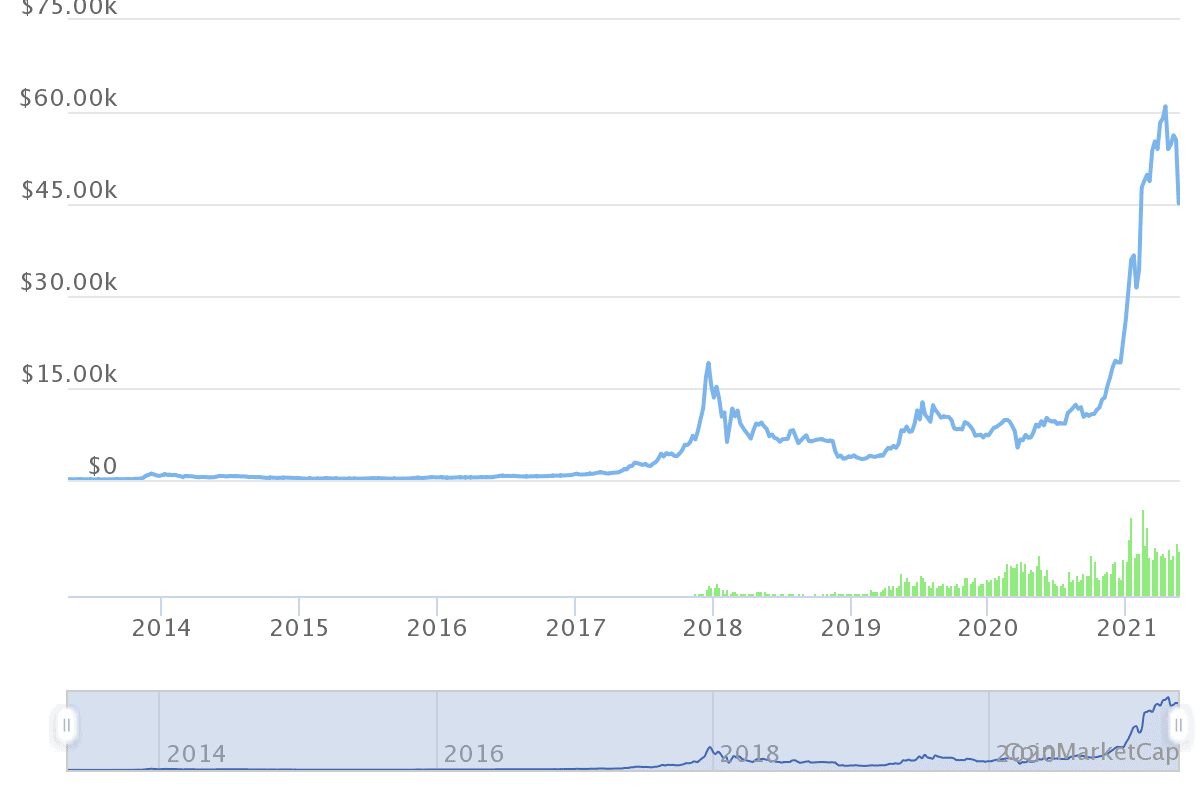 But not only Bitcoin is affected by the current price slide. The overall market seems battered, and virtually all top cryptocurrencies have suffered price falls of up to ten percent. After a few strong months of scratching the magic $ 4,000 mark, Ethereum also had to deal with setbacks. The price slipped from just under $ 4,000 to the current $ 3,500, according to data from CoinMarketCap and CoinGecko.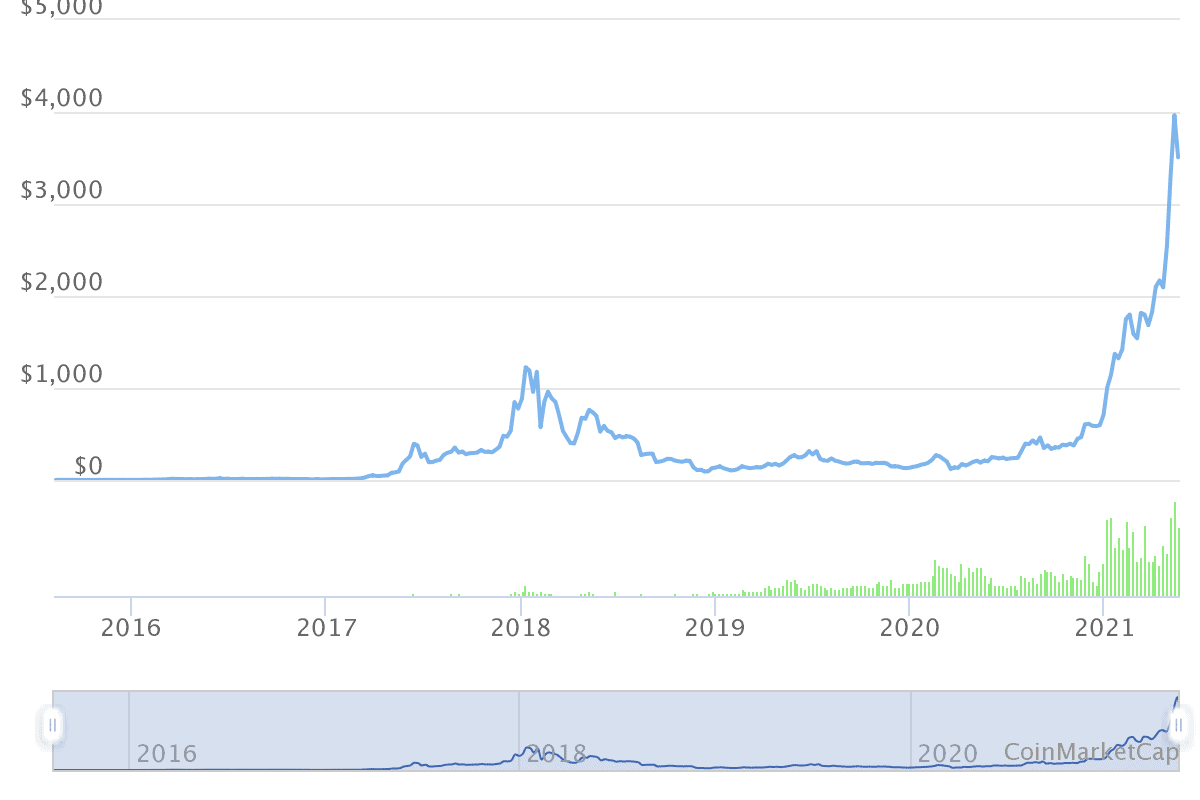 If 2021 began as an absolute crypto year for many investors, a little disillusionment should now set in. Whether the current downtrend can be broken will become clear. For many Bitcoin enthusiasts, May should give the ur-coin a new all-time record high, this month marks the anniversary of the Bitcoin Halving event. Statistically, Bitcoin always reaches a new peak a year before and after the event.
Conclusion: for Bitcoin and crypto opponents, the current developments are a found food
They exist, the people who have nothing for cryptocurrencies. Prominent examples would be investors such as Charlie Munger, who just recently expressed his dislike of bitcoin and crypto in general at Berkshire Hathaway's annual meeting. But recent events also allowed for legitimate criticism about the influence of personalities on the highly volatile crypto market. Economist Peter Schiff questioned the market's ability to be influenced by individuals and, compared to traditional financial markets, does not see cryptocurrencies as a safe investment for now and in the future.
To be clear, I strongly believe in crypto, but it can't drive a massive increase in fossil fuel use, especially coal

– Elon Musk (@elonmusk) May 13, 2021
The strong response to the heavyweights on social media has been one of the childhood diseases of the crypto world right from the start. A disease with serious consequences, especially for smaller investors, which can quickly throw a price decline of over ten percent out of the game. That's why it's all the more important that the crypto scene grows up in this regard and develops immunity.
After all, the prospects for the crypto market are very rosy. For example, starting in July, German special funds will be able to invest up to 20 percent of their assets in cryptocurrencies, which was previously not allowed by law. Thus, according to experts, about $ 350 billion of capital could flow into the market. Prices are likely to continue to recover and build thanks to such news. Anyone who has been in the crypto space for a little longer knows that Hodl is a good strategy anyway!