Overview:
Goldman Sachs Head of Commodities Research Says Cryptocurrencies Are More Like Digital Copper Than Gold

Jeff Currie, Head of Commodities research at Goldman Sachs, says crypto is not comparable to a safe investment product like gold due to the high risk

The recent Bitcoin Crash unsettles many investors and reinforces critical voices
In one Interview with CNBC, Goldman Sachs head of commodities research Jeff Currie expressed his concerns about comparing cryptocurrencies to gold. According to the commodity investment products expert, investing in crypto involves a high level of risk and is therefore difficult to compare with a very safe investment in gold. The expert sees a comparison with copper or oil as more sensible.
"The digital currencies are no substitute for gold"
Although both gold and cryptocurrencies are a hedge against inflation, you can't compare the two assets. If, according to Jeff Currie, gold is one of the" safe haven assets", which are usually stable in value and bring a steady return, there is a not inconsiderable investment risk attached to coins and tokens.
"Digital currencies are not substitutes for gold. If anything, they would be a substitute for copper, they are pro-risk, risk-on assets. They are substitue for risk on inflation hedges not risk off inflation hedges" # crypto $ BTC

Jeff Currie, Head of Commods at Goldman Sachs pic.twitter.com/Qc1yXnDfvo

– Joumanna Bercetche 🇱 🇧 (@CNBCJou) June 1, 2021
"The digital currencies are not a substitute for gold," says Currie. "If anything, they are a substitute for copper, and I argue that because they are risk-takers."
Bitcoin is correlated with the business cycle, according to Currie, because it is associated with an underlying payment structure. For this reason, it is a better substitute for "risk-on inflation hedges".
These types of inflation hedges, which include copper and oil, are hedging against good inflation resulting from increased demand, according to Currie. In comparison, gold hedges against "bad inflation" resulting from a change in supply.
Are cryptocurrencies not sufficiently regulated?
The risk of cryptocurrencies, critically observed by many experts such as Currie, always makes calls for regulations. The highly volatile crypto market is not under government control or controlled by banks. This circumstance is one of the core characteristics of digital currencies.
Financial regulators, however, see this as a major threat to investors. Just recently, the Central Bank of Ireland's Director General for Financial Conduct, Derville Rowland, commented on the issue of crypto regulation. Rowland took the occasion of the recent Bitcoin crash.
Crypto assets a great concern, says Central Bank's Rowland#belonged #CBI distributive # cryptocurrency # consumerprotection # bitcoin
The rising popularity of cryptocurrencies such as Bitcoin is "of great concern", according to the Central Bank's Derville Rowland. https://t.co/mrmBa6a7eb

– JB McCarthy (@jamesbmccarthy) May 31, 2021
In an interview, Rowland agreed with crypto investors on the downfall. According to the Director General, investors should be prepared for the complete loss of the invested assets. For Rowland, it is clear that the crypto market needs to be regulated. Your idea of a crypto space could soon be in your hands. This year, the hardline Director – General will chair the Standing Committee on Investment Management of the European Securities and Markets Authority (ESMA).
In this position, Rowland has significant influence on the way cryptocurrencies will be treated in the European Union in the future. So for crypto investors, it's worth taking a closer look at the Irish Director General's positioning.
Bitcoin in a strong correction at currently around 37.500 US dollar-cryptocurrencies generally battered
The reason for the recent, critical voices is likely to be the developments in the crypto market. The overall market is currently rather battered. It has particularly hit Bitcoin, which has meanwhile fallen to around 37.500 US dollars. While the popular Ur-Coin could celebrate new highs in mid-April, the current chart looks rather less promising as you can see on CoinMarketCap.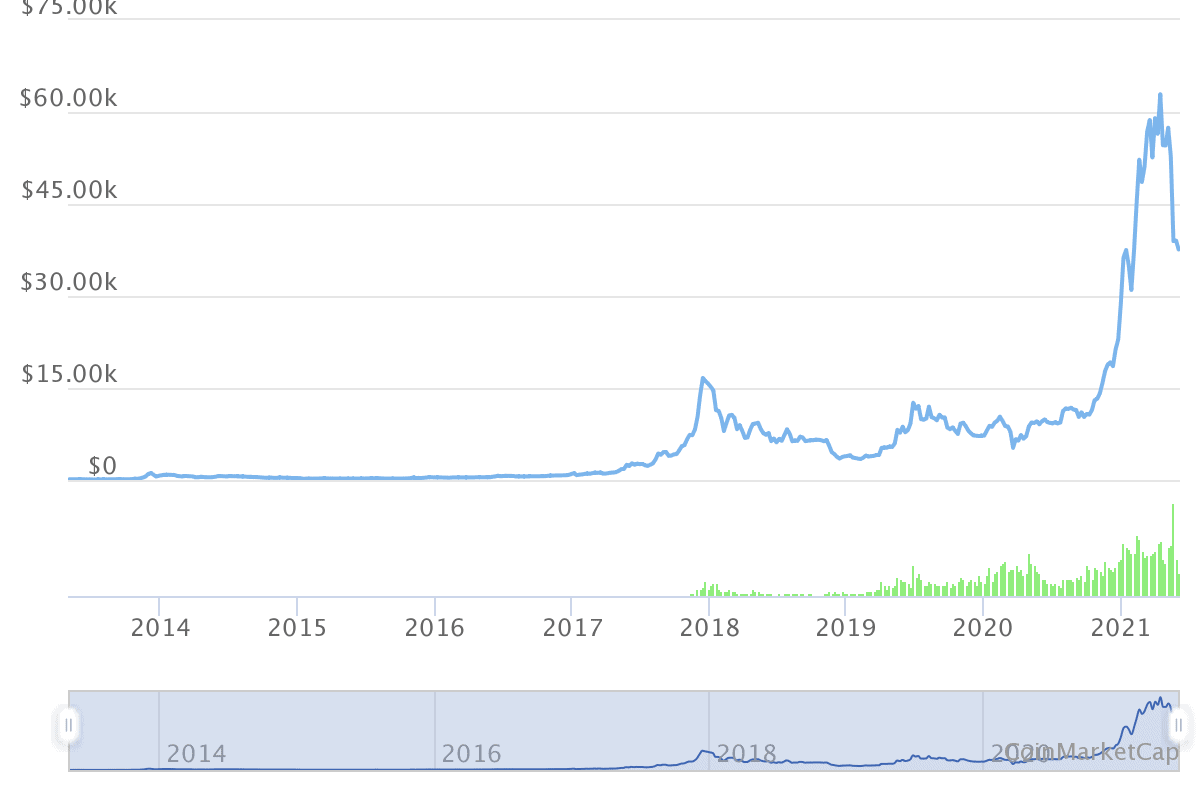 The discussion about whether the Bitcoin bullrun is over due to the recent correction is in full swing. Many investors, meanwhile, are looking for a bottom in the current downtrend.
Opinions differ widely. The majority of Bitcoin enthusiasts stay true to the Hodl strategy and buy the dip. If, on the other hand, you believe the classic, technical analysts, the BTC price is still facing the worst. The indicators point to an even more violent drop with a final target of $ 16,000.
Conclusion: the overall situation in the crypto market remains tense
Currently, nobody dances with one hundred percent security on the crypto floor. The floor is wet and slipping is not unlikely. Meanwhile, it is time for investors to wait and analyze the situation precisely. Favorable opportunities for an optimal entry will come and new high phases as well.
A big event is yet to come for the crypto scene. From July, a change in the law will come into force, which will allow German special funds to invest up to 20 percent of the assets under management in cryptocurrencies. This has not been possible so far. The special funds manage the assets of institutions that are likely to have a keen interest in the crypto market. Especially at the current low prices. Through the new German crypto funds, fresh capital flows into the market. Experts estimate that around $ 350 billion is likely to flow into crypto assets.